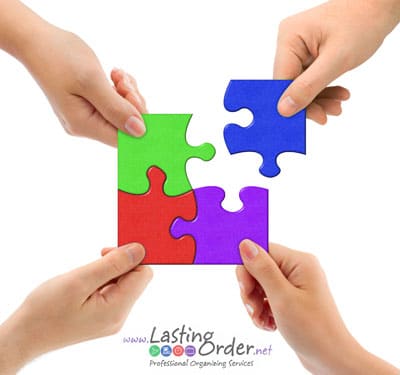 Do like to see everything in it's proper place?
Would you like to help people live a more stress free life?
Would you like to help businesses run more efficiently?
Would you like to bring a little more peace and order to our world?
If you answered yes to some of these questions then you may have what it takes to join our team!
Part-time, hourly ($11-13/hour)
Assists organizing specialist in developing and carrying-out the client's organizational plans.
Must take instruction well and be able to sort, lift, carry, rearrange and move items up to 50lbs.
Part-time, hourly ($13-15/hour)
Evaluate Lasting Order's current marketing efforts and develop a plan that fits within our budget and grows the businesses maximum potential. Be able to develop marketing ideas to reach our target market(s), plan them out & execute.
Evaluates client's current organizing challenge and develops a plan that honors the client's vision, budget and personality. Must be able to organize any room or space in a residential home, home offices and small businesses. Treats each Lasting Order client as an individual with unique needs, values and goals.
If you are interested in joining our team,
please submit your resume with references to